Ten years ago, Jeff Bezos said Amazon needed to be able to sell clothes and food, two things we will always need.
Having launched Amazon Fresh to deliver groceries in the UK, Amazon have recently launched Amazon Prime Wardrobe in the US. The service allows Prime customers to choose several items of clothing to try on at home, over a 7 day period, without paying for them. They then get a discount depending on how many items they keep. The clothes arrive in a box, delivered free, then any unwanted items can be returned in the same box, also for free. Brands include Hugo Boss and Calvin Klein. Will this be more popular than the technology we wrote about recently, such as virtual fitting rooms? Can technology equal the benefits of trying on clothes before you buy? If this is a success in the US, look out for it on Amazon in the UK. If it is successful, it will mean department stores will have to come up with new ways to compete as one of their selling points is having many different brands under one roof.

So what else has Amazon been up to?
Nike recently announced a deal with Amazon to launch some of its products on the online retailer's site. Sporting goods retailers are already finding business tough with several retailers filing for bankruptcy and when this deal was announced share prices of a number of companies fell. Of course, Nike products can already be found on Amazon through third party sellers or unlicensed dealers but the company hopes to gain more control over its distribution with this deal. However, it will still heavily rely on its wholesale market and may keep limited editions to high street shops.
The Amazon Echo has been upgraded to include a camera. The new device is called Echo Look and can take a hands free selfie or video of you from every angle. The idea is that over time, the app will learn your style and be able to make recommendations on what to wear. There is also a feature called Style Check which allows you to submit two photos and fashion specialists and algorithms will tell you which is the best look, according to current trends, fit and styling. The app will also be able to make recommendations of what clothes to buy.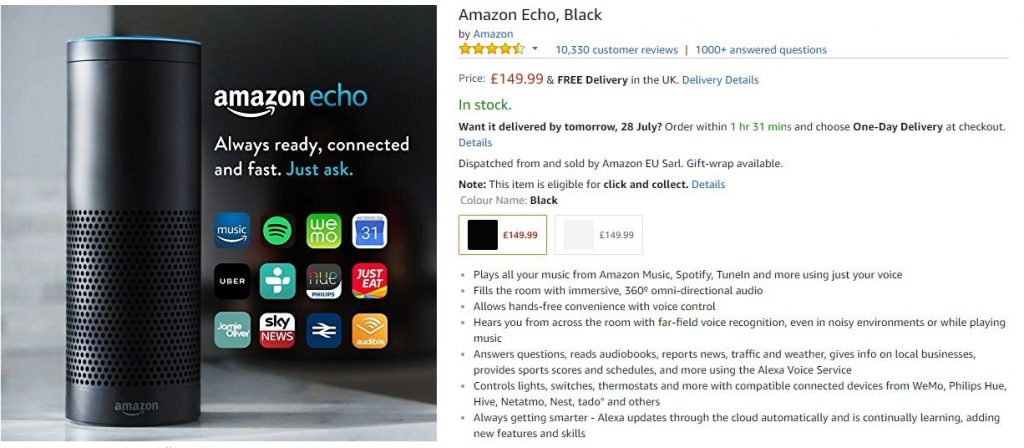 Have you thought about getting your collection on to Amazon? Their website claims it can be done in a few easy steps: register as a seller and a brand, ensure you meet the requirements in their guide and ensure you have top quality listings with photos and descriptions to enable people to find your products. If you list on Amazon.co.uk your items can also be sold across Amazon in other EU countries.