The arts sector has been dealt an almighty blow during COVID19. From closures of theatres everywhere in early spring, to now local restrictions and national social distancing measures in place. Unfortunately, many theatres have taken the heart-breaking decision not to reopen until they feel it is safe to do so, others hoping to open their doors in very late Autumn, and some unable to open their doors again.
For many creatives, the theatre is where we draw inspiration from. We use it as a route to escape and to see things played out in front of us from an entirely different perspective.
We take in the amazing makeup artistry, the costumes, the incredible instrumental, and fashion styles from different genres and periods in history, and we follow the story, all while thinking of our own work and how we can learn and develop.
However, there is some good news!
We can now stream virtual shows, performances, festivals, and more, with most now available for free!
So, not only do we have the excuse to stay in our comfy loungewear, we still get to watch some of the most memorable productions around town.
Check out what's on below and make sure to book your theatre night in, soon.
Edinburgh International Festival – is now host to an entirely digital platform to incorporate all of its currently postponed events. As part of this, you can find the popular National Theatre of Scotland's Ghost Light here.
Edinburgh Fringe Company is also streaming a range of recorded productions online, with all funds raised going directly to the artists who are struggling during these times.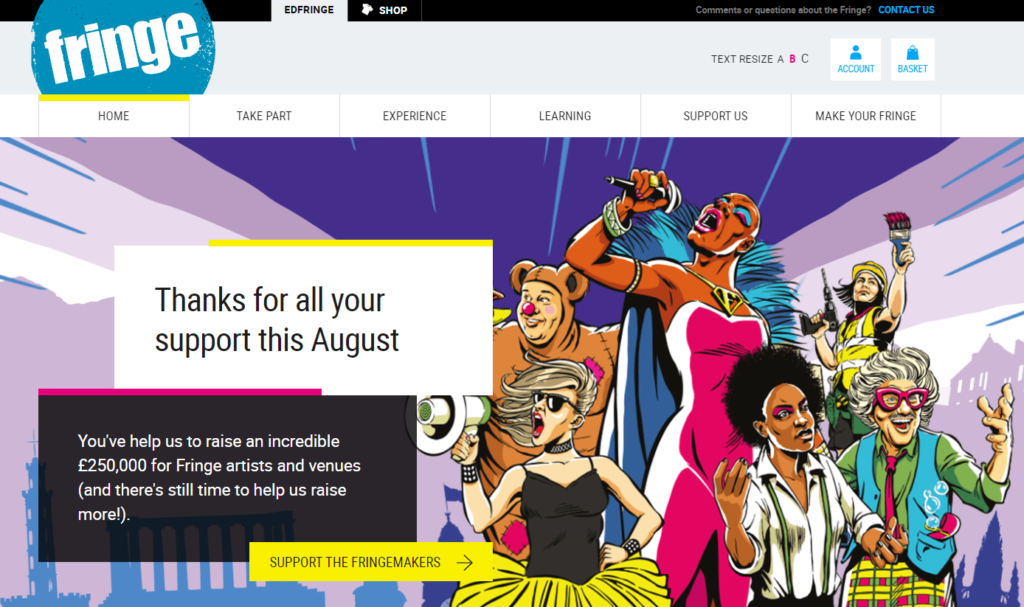 One for the kids, maybe, but who doesn't love a Disney production? Streaming now is the theatre production of Tangled via YouTube, with some fantastic musical compositions and costumes on set!
We're devasted to hear the news relating to Canada's Cirque Du Soleil and the financial impact COVID19 has had on the company. A spectacular circus show, Cirque Du Soleil, is currently running hour-long free shows on their YouTube channel to keep their audiences engaged – you've got us!
The Royal Opera House is keeping us well and truly entertained with some amazing shows such as spectacular ballet performances The Nutcracker and Swan Lake and providing some classic clips from the Covent Garden stage in London from The Magic Flute and Carmen.
The hit-making south London theatre Southwark Stayhouse has released three archived productions, including the incredible rock musical Wasted – which definitely a one to watch!
Shakespeare, The Winter's Tale, has been revived thanks to the iconic theatre company Cheek by
For those who enjoy a little bit of the Opera, the European Commission has announced its support to OperaVision. An opportunity to watch top tier performances filmed at the highest quality level with new shows released weekly.
The Royal Albert Hall, or The Royal Albert Home as it has now affectionately named itself, offers a range of shows online for free, where all that is asked in return is a small donation to the Hall itself.
With performances from Malian vocalist Fatoumata Diawara and guitar legend Joe Bonamassa, you can now virtually see and hear sets from some of the most talented artists around.

The West End's production of The Wind and the Willows, starring Rufus Hound, Simon Lipkin, Craig Mather, Neil McDermott, Denise Welch, and Gary Wilmot, is now available to stream (for a small fee, which is donated to theatre charities). With some extraordinary costumes, incredible music, and a whole host of laughs!
Theatres and the arts are by no means lost forever. Like the rest of the world, they are simply finding their way in this new `normal`. We need to support our local theatres, productions, and shows now more than ever, helping to keep the magic that these venues create alive.
At Fashion Rider, we want to continue to support our members in the best way possible; if you would like to talk and to find out more, drop us an email: contact@fashionrider.com