Although few of us are likely to have been lucky enough to attend the highly anticipated SXSW 2017 conference, we were still excited to learn which innovative new trends and technological developments we should be watching according to some of the most successful and respected names in the fashion and beauty industry.
About SXSW
South by Southwest SXSW conference is held in America and was first founded in 1987 with the aim of helping creative people to achieve their goals. Over the years the conference has grown massively and is now a huge annual event, last attended by over 72,000 registrants and creative professionals from all around the globe! During the conference leading keynote speakers talk about and hold panel sessions on current trends and innovative developments in a variety of creative industries including fashion and beauty.
Credit: SXSW
This year some of the key speakers from the fashion and beauty industry included Michele Promaulayko from Cosmopolitan, Matt Kaness from Modcloth, Krista Neuhaus from Kate Spade New York, Rachel Weiss from L'Oreal USA and many more.
A few of the most intriguing sessions covered this year included 'Artificial intelligence is the future of fashion', 'Connected retail: clicks and mortar meet up', 'The Fashion Designer in the age of social media', 'Rise of the "Real Girl" in beauty and fashion' and 'Social shopping: the influencer tech driving billions'.
Unbelievable new technology meets fashion
Fashion and technology continue to become increasingly entangled as world renowned brands launch ever-more exciting and futuristic materials and wearables. Ok so some of these novelty products may be a flash in the pan, but there are plenty that we'd mark as 'ones to watch' and others that already look set to stay. With smart watches gaining popularity, including Michael Kors' stylish new and highly sought after range, we were interested to see what other developments were revealed at SXSW.
• Dutch fashion designer Pauline van Dongen revealed a touch-sensitive denim jacket that gives back rubs.
• Google and Levi's also revealed a smart jacket capable of answering calls, turning music on, reading messages and getting directions and the time for the wearer.
• A San Francisco-based company unveiled a limited edition knit necktie made from 100% bioengineered spider silk.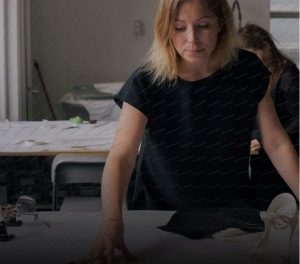 Credit: Pauline Van Dongen
Films and the media have meant that for many of us visions of human-like androids are immediately summoned when we think of artificial intelligence, but in actual fact the term has a far more varied meaning.
Artificial intelligence in a very simplified form is already in use by many companies in the form of social media customer service 'chat bots'. The introduction of artificial intelligence like Amazon's Alexa, combined with the vast amounts of customer data now collected online and by technology means that the next stage of AI for retail is likely to be AI-driven conversational commerce.
Instagram still reigns
With all kinds of fashion and beauty brands including L'oreal and Fossil, naming Instagram as their number one social media priority it's clear that this popular visual social platform is one that everyone in the industry should be taking seriously.
With Instagram expanding its photo sharing capabilities and sleek visual galleries to include features like Live and Stories brands are now able to share spontaneous and behind the scenes content as well as the more staged and perfected product and lifestyle shots.
Want to learn more? You can visit www.sxsw.com for more information and news about this year's conference and the sessions that took place.