Your closet may contain flats, heels, boots, sneakers, and sandals, but there is a way to pretty much pair sneakers with everything. Now, why would you possibly want to pair sneakers with certain attire? Do dresses and sneakers really go together? Yes, dresses and sneakers absolutely do go together. Worn together properly, you will even be able to get away with wearing sneakers to the office. Pay attention to following fashion advice and pairing suggestions to learn how to dress smartly while wearing sneakers.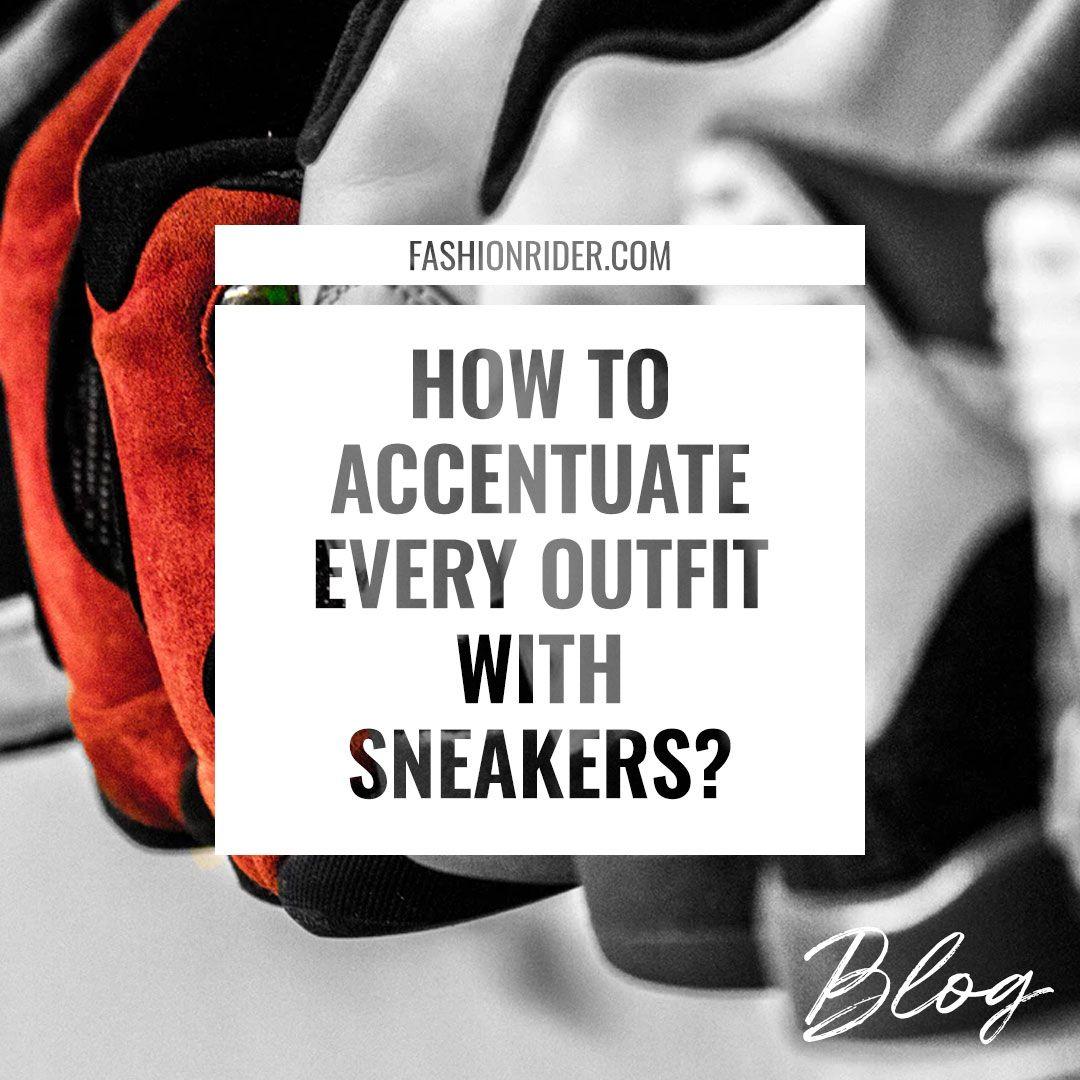 The Standard Sneaker Collection
Any fashion-conscious person has sneakers for different purposes in their wardrobe. There are athletic sneakers that are usually only worn to the gym or when engaged in a physically demanding task such as moving furniture. Your walking sneakers would be worn while walking long distances, like going on a shopping excursion. The standard sneaker collection generally includes sneakers in solid colors, starting with sneakers in black, white, and grey. Having the standard sneaker collection makes pairing easier as you can best match each pair to the outfit of the moment. When you expand your standard collection of sneakers, you will want to include more colors, like red, blue, pink, and green. After that, sneakers with patterns and various materials might also be included.
Figuring Out Which Sneakers Look Casually Chic
Sneakers are normally worn with casual attire. Sweatpants, sweatshirts, and sneakers can look funky and edgy, bohemian chic, or effortlessly trendy. Meanwhile, pairing a certain pair of sneaks along with a leather jacket and jeans might make you look tough and menacing, or like you are a perfectly groomed hipster. For every pair of sneakers that you own, there is a way that you can choose and style your clothes so that your look is always casual and chic. Whether you are putting on sneakers with a full suit or slipping them on underneath an evening gown, you have to go about making them look as smooth and clean as you can. Sneakers are supposed to look clean and nice, and also feel good, as you probably won't be sitting down a lot if you wore your sneakers for fashion purposes.
When and Where to Add Sneakers to Your Fashion
While you can wear sneakers with any type of outfit, it is not always the right time to do so. At a job interview, it might be frowned upon to wear sneakers simply because they not seen as being business appropriate. Anywhere there is an event that strictly forbids sneakers and casual gear, you won't be able to convince organizers that exceptions should be made for those with exceptional fashion sense. It won't matter if the sneakers you are wearing are from luxury brands or cost a lot of money. However, you can sport your sneakers to any event that you run on your own behalf. Shop now to choose a new pair of sneakers to be delivered straight to your door. If you have an overall casual look and you are not going to be breaking any type of dress code, both written and unwritten, feel free to wear sneakers.
How Noticeable Are Your Sneakers?
There are sneakers that light up, change color, and have sound effects when you walk or move. Some sneakers come in materials that are eye-catching, such as patent leather, snakeskin, or fur. Your sneakers may be noticeable to others if they are limited edition, rare, or super popular. Accentuating your outfit might mean highlighting your sneakers if you want. On other occasions, particularly when your sneakers are noticeable, you should attempt to dress your look down a bit. With noticeable or 'flashy' sneakers you really want your look to be well put together and thoughtful, not garish or showy. Put on a sweater, wear dark colors, put on a couple of conservative accessories and attempt to balance out your outfit.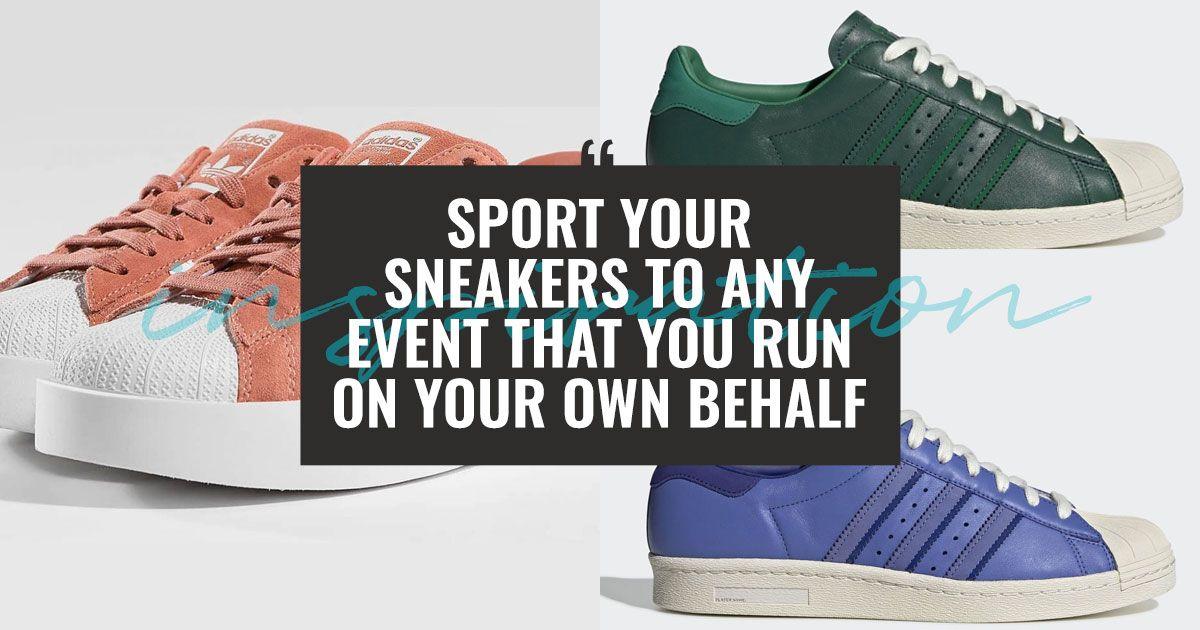 Keeping Sneakers in Order
A lot of times sneakers come in and out of style just like other fashion essentials. Hi-top sneakers used to be all the rage. Sneakers might be worn by someone who is older because no other type of shoe feels comfortable. Most importantly, sneakers have to be cleaned and taken care of so that they can last for years. You can buy a pair of sneakers and wear them for decades as long as they are stored properly, cleaned, and repaired when needed. Sneaker styles do come and go, but they often have a resurgence every few years. If you maintain a sizable collection of sneakers, you will want to keep them in boxes, perhaps sorted by season. Better to add to your collection by maintaining order with the existing pairs.
Making Sneakers the Star of Your Outfit
If you like sneakers then you will make it a point to wear them at least a couple of times a week, pairing and matching them up with outfits picked out in advance. By contrast, sneaker lovers, also known as sneaker-heads, will match their outfits to whatever pair of sneakers they've already chosen to wear that day. You can make more of a statement by highlighting what you wear on your feet, and you do this by thinking of your sneakers first. Some sneakers are pretty flashy, colorful, or simply have such killer shapes and lines that you want your clothing to be more of an afterthought. A plain t-shirt and jeans always highlight shoes and accessories well. Wear outfits in solid colors or two-color contrasts to perfectly highlight whatever you have on your feet.
Sneakers are a pretty classical traditional look. They have rubber soles, laces, perhaps a cloth tongue and a logo somewhere embossed with a recognizable label name. They are the most popular variety of shoe, first because they are comfortable. Sneakers are unisex, they are versatile, and they are useful. People have quite an attachment to their footwear, particularly if that footwear makes them feel cool and fashionable. What heels are to sexiness, sneakers are to casual, laid-back, effortless style. Young and old, conservative and eccentric, sneakers are as hip as they are timeless.