For anyone just starting out in the fashion industry or the creative industry at large, it might seem that the big brands that dominate our market do so with ease, especially when it comes to financing or reporting sales and profits.
Let's face it, famous fashion designers and brands very rarely speak about their finances and how they are managing their cash flow forecasts, except perhaps a new piece that a brand is looking to launch or a new photography exhibit which is about to open.
However, for some of these big named brands, they have been through years of reinvention and financial analysis before achieving the level of success they're accustomed to today.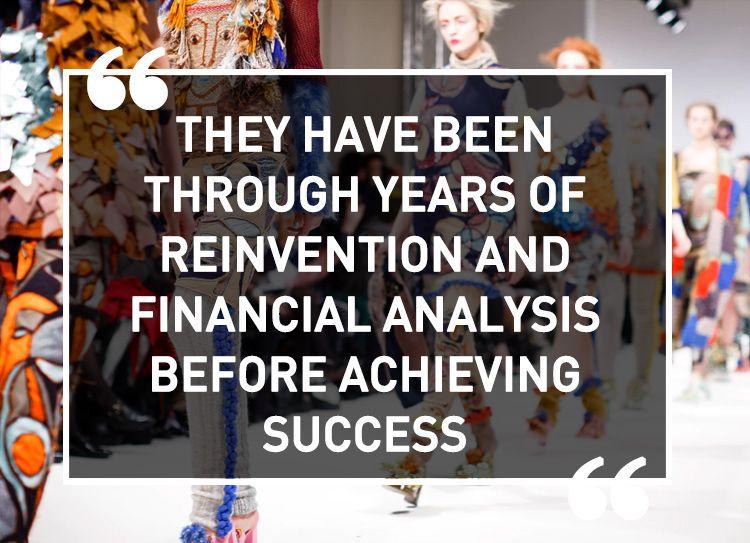 Learning from experience
For example, entering the fashion industry in the 1970's at the age of 18 was non-other than Tommy Hilfiger himself. Opening a store called "People's Place," Hilfiger sold fashion that was inspired by iconic bands such as The Beatles, The Rolling Stones, and Jimi Hendrix. Initially starting his business with $150, the stores became an instant success and he began opening locations in college towns across New York State.
However, at such a young age and with a lack of good advisors, poor financial planning and over expansion in the midst of the American recession, all culminated in Hilfiger filing for bankruptcy protection in 1977.
Not to be defeated and learning from his experiences as well as gaining vital financial skills and knowledge along the way, Hilfiger came back into business, operating under his own name in 1985. His expertise showed when in 1989, during further difficult financial periods, Hilfiger partnered with investors, who supported him all the way to an initial public offering in 1992. Hilfiger soon became the first fashion company to be listed on the New York Stock Exchange and by 2000 was generating a healthy $2 billion a year in sales.
Planning must always come first when going into business, any business. It's easy to get swept up in the hype, but as Hilfiger has proven, it can also all be taken away very quickly. As Benjamin Franklin once said,"if you fail to plan, you plan to fail."
Now, for a brand that has firmly established itself within the fashion industry, you'd be mistaken for thinking that Calvin Klein always made money!
Ten years after the brand first launched, the business was generating over $30million, and by the 80`s had cemented itself as a firm household name.
Successful, yes. But, debts spiralling out of control, 100%.
So much were these debts that in 1992 the company faced bankruptcy. Investments and backers were the only way that Klein could support the company's financial situation and continue trading – and in 1993 along came entertainment industry executive and investor David Geffen.
However, after years of ups and downs, in 2003 Klein and his business partner Barry Schwartz decided to sell the company to PVH for $400 million in cash, as well as $30 million in stock and up to $300 million in royalties!
Calvin Klein continues to be a successful and competitive brand, but it is also a brand that has continued to review its investment opportunities as well as exit strategies.
Conclusion
Hilfiger and Calvin Klein are just two examples of big brands who have faced financial turmoil in some form or another, but they have strategized, planned and above all never gave up. They had belief in their products, in their brand and they chose the right investment opportunities and exit strategies for them.
There are many other brands out there who have faced similar financial reinvention and understanding other people's experiences as well as their tactics is a big part of our own learning curve.