Do you genuinely love the clothing in your wardrobe? If not, it may be time you created a capsule wardrobe that ensures you have pieces of clothing you feel comfortable wearing for any occasion.
Doing this can be easier said than done if you don't have much experience in fashion. Still, the following this guide on will give you all the information and capsule wardrobe tips you need to know on how to build a capsule wardrobe to be proud of day in, day out.
What is a capsule wardrobe, you may be asking? In very basic terms, a capsule wardrobe is a reduced compilation of clothing that match with several items in an array of different ways.
In this article, we're going to give you some tips on how to start a capsule wardrobe so you can create your very own capsule wardrobe!
Opt for versatility
When it comes to creating a capsule wardrobe, it's important to choose versatile items that can be dressed up or down for any occasion. Womens V neck tees, for example, are a comfortable yet minimalist base layer that will style well with an array of outfits.
A white t-shirt is a framework that supports the remainder of your outfit. Quite simply, the more adaptable your wardrobe is, the less likely you'll have to go out and buy a vast amount of clothing to match your current pieces.
Get rid of what doesn't fit
While you may be clinging onto items in the hope that you will fit into them in the near future, it would be wise to be ruthless and get rid of what no longer suits your body shape.
However, there's nothing wrong with keeping a few key items if you're planning on losing weight and wish to wear them again at some stage, but just try not to keep absolutely everything. Be brave and ditch clothing that you'll be unlikely to wear in the next few months' and start fresh.
Try everything on
Before you decide to purchase an item, it would be best to try it on in the changing rooms within the store to ensure it fits properly.
For example, jeans are one of the most common pieces of clothing that many people find challenging to flatter their figure and hide their imperfections, as well as keeping you comfortable throughout the day.
It would be a good idea to find out which body shape you have before trying on pieces and boost your chances of a well-fitting capsule wardrobe.
Figure out your signature style
Before you can create a capsule wardrobe that truly works for you, you need to consider what your signature style is. Do you feel comfortable in comfortable casuals, or perhaps you prefer a classic vintage look?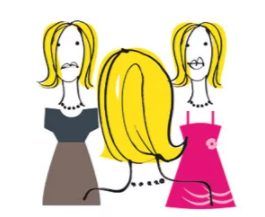 If you don't feel like your current wardrobe represents you, it's important to empty your closet and start again with items that you believe showcase the real you. A capsule wardrobe should be both limited to avoid a cluttered mess but should also make you feel confident in the pieces you choose.