For makeup artist Lou Dartford health and wellbeing has always been a strong interest. Although she started her career in special effects make-up, over ten years ago, it was only a matter of time before her real passion in natural beauty products became the main focus of her career.
Like many of our Fashion Rider members, Lou was becoming increasingly aware of the darker side of the beauty industry and its detrimental effect on the environment, and possibly our health.
"From unsavoury ingredients to a careless environmental impact, I realized these were key elements of many of the products I had in my kit"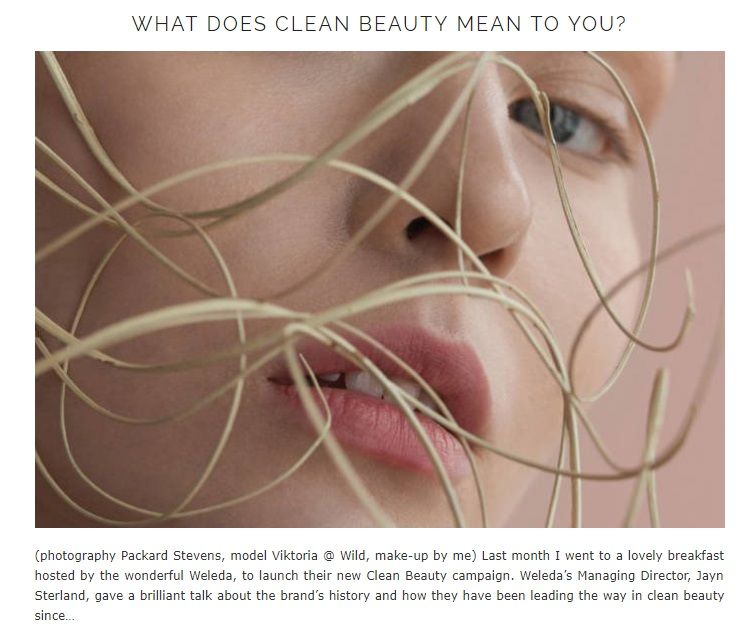 When Lou first started using natural products she admits it was not easy and she was limited by the lack of choice. However the more she learned about it, the more she became convinced that natural beauty was the way she needed to go.
Ethical makeup has taken a long time to move away from its reputation of not being able to achieve the same results as more conventional makeup. The transition for Lou wasn't easy and she admits there still aren't enough green alternatives to do everything she needs to do as a professional makeup artist. However Lou only works with the best alternatives, such as those that are as ethical as possible in regards to animal testing and environmental damage.
Lou has made the decision to make her kit as clean and green as it can be and although it is not 100% there the balance has tipped dramatically.
"Eventually, the natural and organic products were right there alongside the "regular" ones, and then, they were overtaking them."
Natural and organic make-up has come so far. Now you can have amazing products with ingredients that are good for your skin, respect the environment and avoid any suspect chemicals.
Lou's passion also seems to be rubbing off and she has noticed an increase in the interest in the products she uses on her jobs.
"People are definitely more interested in what I am doing and are impressed with the products. I've been able to help them green their routines a little more, giving them natural alternatives, without compromise. Many have noticed improvements in their skin too, which is an added bonus and shows the power of these great products"
Lou is leading the way in regards to ethical makeup and we should all be inspired to give these alternative products a go, knowing that we will be doing good in more ways than one.
"I'm doing everything I can to green my kit, and slowly but surely, it's getting there. It's a really exciting time for organic beauty and I'm glad to be a part of it! You should give it a go too!"
Do you have any advice for makeup artists considering going green?
I think you need to decide what 'going green' means to you. Do you want to avoid certain ingredients or animal testing, are you interested in vegan products? Is sustainability a key issue for you? There lots of different sub categories so you need to decide what you will and won't include in your kit. Don't freak out, replace things as they run out in your kit, it's much better on your bank balance and also the environment – don't throw away things that can still be used.
How do you avoid being conned by the untrue marketing tricks of many brands?
It really is about educating yourself and learning to read labels. Research brands and learn about their ethics and decide whether you like what they are doing. Talk to brands as well – ask them questions – if they are bona fida they won't mind and will be keen to have conversations about ingredients etc.
Do you have any recommendations for the best products?
There are loads now! Some of my favourite brands include RMS Beauty, Vapour Organic Beauty, Ere Perez, Kjaer Weis, Ilia, W3LL PEOPLE, Absolution, Weleda, Nourish Skincare.
Please don't hesitate to contact us with your experience with Ethical makeup:
contact@www.doenhoff.co.uk