Whatever your creative passion, be it fashion or any other aspect of design, the prospect of turning your vision into something tangible has become quicker and easier than ever before thanks to the 3D printer innovation.
With the 3D market currently being a $3 billion global industry it is certainly time to get involved.
First and foremost, 3D printing is a way to take a 2D concept from the page/screen and turn it into something you can hold and examine allowing greater insight into your proposed design, for this reason 3D printing is often referred to as "rapid prototyping".

Traditionally, once happy with a design it could take weeks before the first prototype came back from your manufacturer and with making a prototype comes an obligated to complete that task before continuing with additional work. Allowing the production of a prototype in hours, rather than weeks, on site is more reliable than traditional methods. Clearly defined by the thing your client has in their hand, confusion and waste through miscommunication is easily reduced, which can cut costs in the long term and create huge benefit to your business.
Once happy with your design the 3D printer allows for limitless reprinting of your product, where it really comes into its own though is one-off designs or simple customisation of existing designs, ideal for fashion accessories for example.
Design freedom, because of the way the object is built up in layers manufacturing intricate and previously near impossible designs is within reach. The 3D printer goes a long way towards removing concerns around tool access and considerations around undercuts and spiral holes, for example, are mitigated.
Of course, new technology always comes at a price, to start with there is the financial cost. High-spec' 3D printers aren't cheap and as is often the case you get what you pay for, both in quality of the finished product and additional features supported by the device.
The Solution
That's where Manchester Fashion Institute comes in. As a centre packed with creativity, experience and innovation, they have all the tools you need to unleash your potential.
Boasting millions of pounds worth of advanced equipment and technology as well as a team of industry specialists who understand the importance of delivering to deadlines, the institute prides themselves on being a true cost benefit to businesses and fashion professionals.
3D BODY SCANNING
Body scanning and 3D techniques give you the ability to design towards the perfect fit using a non-contact 3D measurement system. Infrared sensing and advanced image technology are able to create digital copies of the silhouette and geometry of the body, which can be exported for constructing patterns, garment draping and 3D body tracking. 3D scanners allow us to examine the body in ways we never have before.
The institute also offers textile testing services, and are the technical partners of many high-performance clothing which is worn today. With advice on the appropriate testing for your specific fabrics, a helping hand on technical adjustments, and guidance on how to add some serious value to your fabric, it's a seriously valuable investment. The university textile labs have the expertise which will help you from product all the way to final show.
Manchester Fashion Institute offers a range of professional services, including:
– Garment sizing development and 3D digital body scanning
– Garment construction
– 3D product development
– Raw material testing and garment analysis
– Textile and garment technology training
– Manual and digital pattern development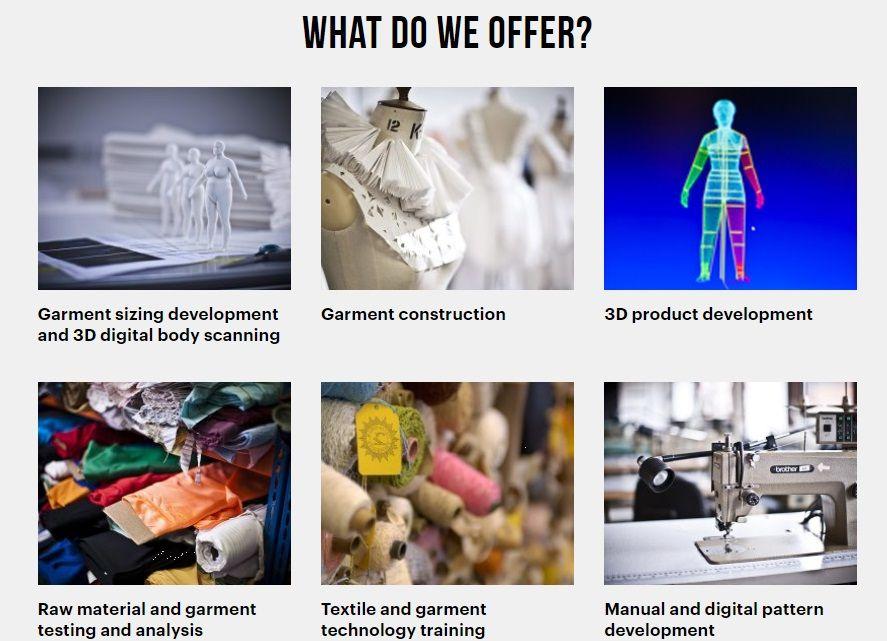 Technology and fashion design now go hand in hand. With the Manchester Fashion Institute's incredible range of services and advice, paired with affordable prices, it's easier than ever for us to keep up with these constant technological developments and add the edge we've been looking for.