Within the fashion industry there are a number of stages that designers must go through before a piece is even worn by a customer. Collection development is just one of those stages that before you even get started or begin thinking about the manufacturing of your collection, you need to consider what process you're going to go through in order to develop your fashion line.
Fashion Designer Alessandra De Simone has provided some of her top tips below as well as some advice on things to look out for during the planning process.
`Tis the season
First of all you and your team must never forget what season you're working on. Yes it might seem a strange point to start on but this does happen.
For example, you design something that is very beautiful and a perfect piece for your collection but not wearable in a certain season (i.e. Denim shorts are not a good idea for a winter collection).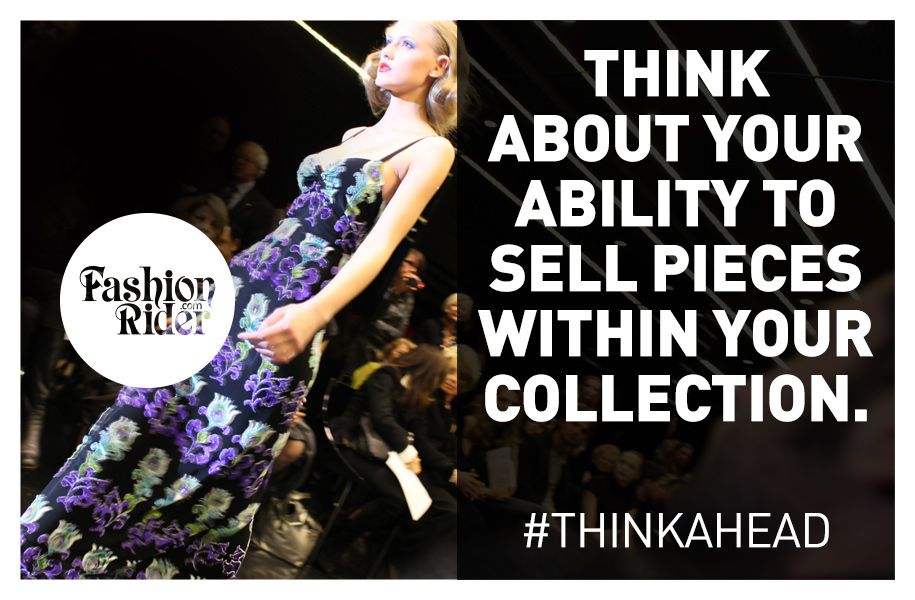 (However, as a clause to this point. It's important to bear in mind that if your brand needs these collection pieces for catwalks and shows etc., then it's enough to produce just one or two variants, suitable only for the runway. Anything more simply becomes a waste of money).
Sticking to the rule above means that you also have to consider your choice of fabrics. This is essential in order to set a collection. Again thinking about your seasons, light fabrics are ok for spring/summer but not ok for a fall/winter collection.
You have to think ahead. Think about your ability to sell pieces within your collection. For example, dresses can sometimes be too light or too heavy for the season so can be more difficult to sell. The right piece has to be designed and the fabric just right and then marketed in the right season in order for the collection to work.
Think about your audience
Never forget that clothes will be bought and worn by real women. So everything that we believe to be fabulous on a model, may not fit in the style or shape you want on a real woman. You have to think about your audience, different sizes and body shapes. For a number of obvious reasons it's better to think about this during the creative process of a collection, rather than once manufacturing has begun.
Don't forget cost
Cost is an important part of the process when considering your brands budget. Very often collection clothes are luxury and expensive and this can create trouble during the production process. So when laying out your plans and looking at developing your collections it can be a good idea to think about the material cost of each item in order to avoid problems later.
Often it's not possible to produce collection styles on wholesale because they are too expensive, i.e. garments made of fur, leather etc, or with expensive embellishments such as beads, sequins, metal studs, crystals etc and so lots of these materials will be substituted with cheaper materials making the result a much lesser quality piece than what you originally intended.
Having an understanding of your costs upfront will help your decision making process when it comes to production.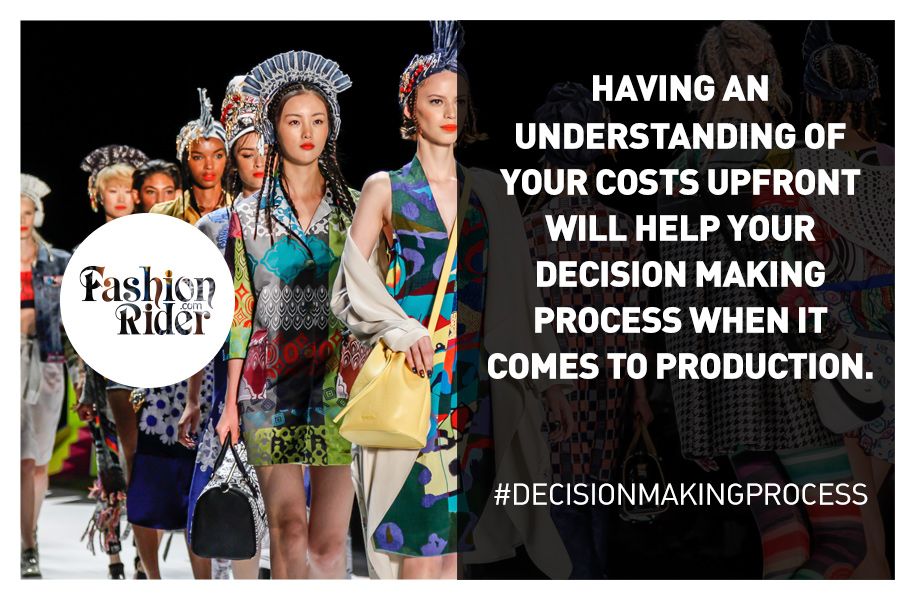 Fashion Production
When you have identified your collection pieces and secured your budget you can start and move into the area of fashion production (or, as suppliers call it, "bulk production"). This where you've made the decision that your collection pieces are for thousands, sometimes for millions of people, so you have to think about a singular garment replicated many times, in different sizes and in different colour variants.
First of all, it's essential to develop sizes very carefully. You want your garments to be comfortable, you want them to be worn by everyone, and as well we know not everyone is the same. So the fitting must be accurate. You have to create a size report for the suppliers which is precise and we mean precision to the millimetre.
You need to also work with experienced suppliers who must be technically prepared and knowledgeable about fabric shrinkage. In order for garments to fit perfectly the workmanship must be accurate in order to avoid flaws (avoiding costly mistakes).
It's also sometimes useful and appropriate to adjust your size grade according to the country you're marketing and selling in.
Second, it's very important that the quality standards are the same for all of the production process. It's vital that in this case, factories uses QI (quality inspection) to check the garments one by one and ensure the quality is in compliance with the standard required by your brand. Of course be under no illusion that this process will come for free – the cost element to this is something you will need to bear in mind as it will affect the final price of each garment. But price doesn't compare to the guarantee of high quality for your fashion brand.
Deadlines
It's part of the process that plays at the back of our minds continually. Deadlines are very important in fashion production because, it doesn't matter how good your production and quality control aspects are, if your pieces aren't delivered in time it can create huge problems, especially for your clients.
Why? Because fashion is an industry linked to seasons so a late delivery can have a negative affect on the selling process.
In order to avoid late delivery, it's better to have a strict production plan. This must be updated every week in cooperation with your suppliers and clients. It's also fundamental to know all of the holidays/vacation days of each country you will be working with (for example if you're planning on operating in China have you taken into account the Chinese New Year – taking place at the end of January/beginning of February where you will find during this time all production processes coming to a complete stop, including offices and factories closing). Production plans ultimately help to keep everything on track and provide everyone with an update to what stages pieces are at and what stage needs to be prepared for next. It's about keeping control whilst still having an element of flexibility if needed.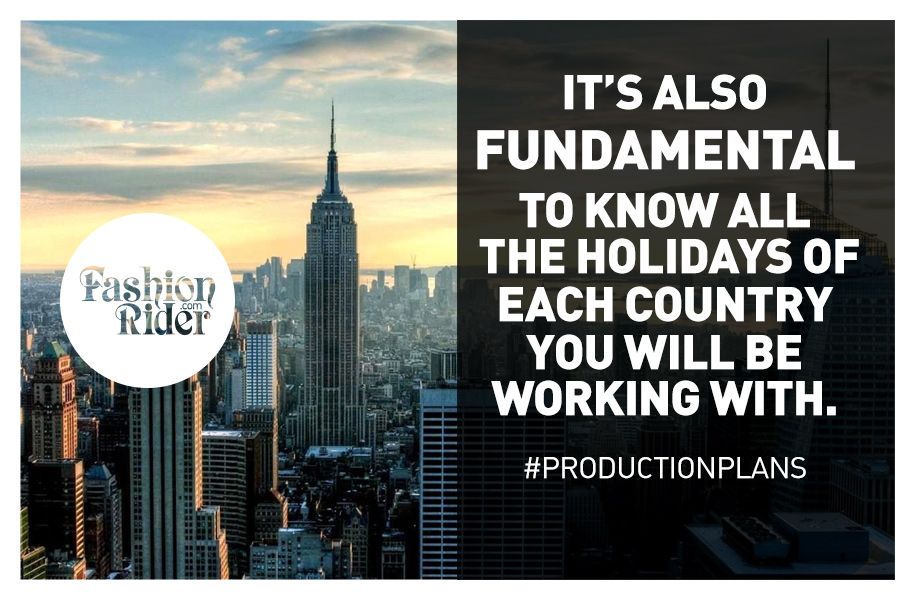 There are many factors to remember when it comes to collection developing. It's about being able to keep all of the plates spinning in the air, from working with your team on your next collection, to thinking about your audience and your suppliers. Quality assurance and deadlines play an important part in helping you to establish your brand, your statement and if you can deliver what you set out to deliver at the highest possible standard.
Top ten tips to remember:
Never forget to make a production plan (this is useful also in collection process)
Constantly be in touch with your suppliers and clients
Be sure communication is always clear from both parties
Add details to your production notes and comments in order to help suppliers do their work
Encourage the use of photos and sketches to explain your notes and comments
Be fast to find solutions and solve problems
Be prepared and informed about new fashion trends, colours, fabrics etc.
Make sure you do your research! Go to fashion fairs, find out about new brands and entrants into the market and gain style inspiration
Be open minded and ready to learn from everybody
Be focused and never lose patience.
Hopefully these tips and advice will show some of the strategies you can put into place to help your collection development process flow even smoother. If would like more help or further details in this area, please don't hesitate to contact us: contact@www.doenhoff.co.uk
If you are interested in finding out more about Fashion Designer Alessandra De Simone, please find her details below.
Thanks for reading.